Easy and crunchy Baklava
Prep: 10 mins
Cook: 40 mins
Servings: 25 pieces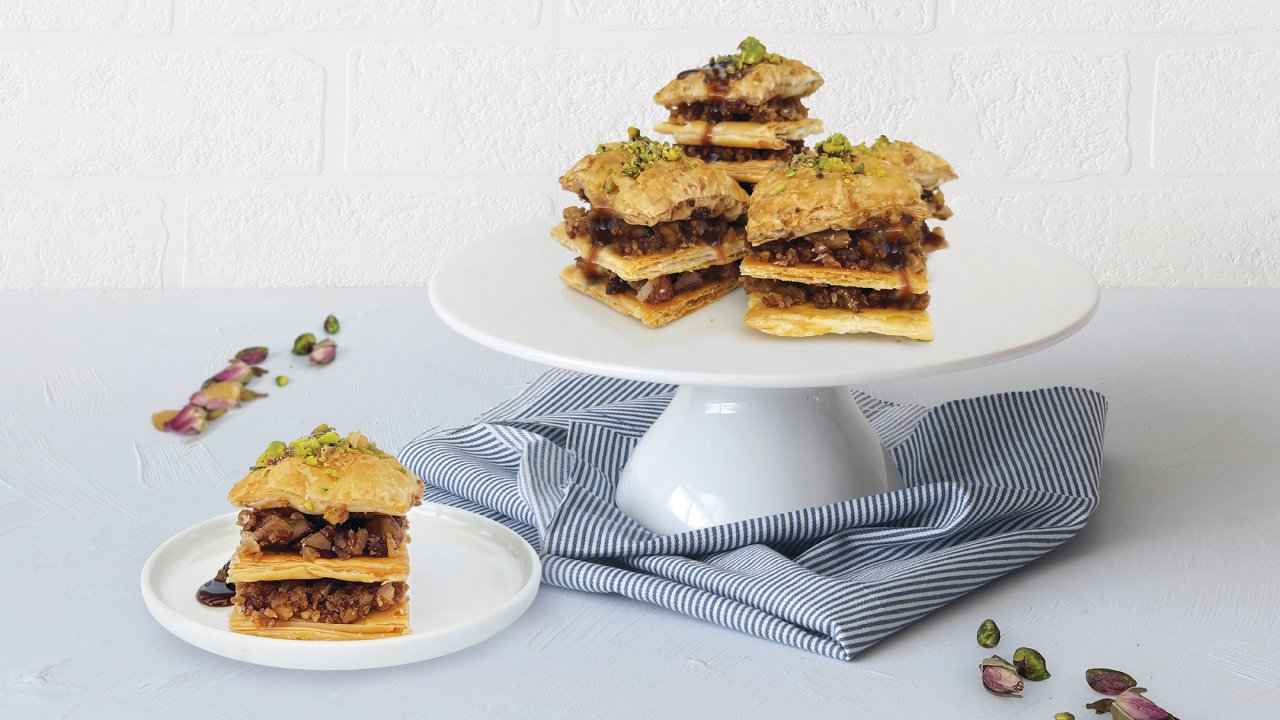 For a tasty, crunchy Baklava try this recipe using golden flaky puff pastry for an extra crunch. Made delicious with CSR Date Syrup, it will be a feast to remember! Recipe developed by @hoda_alzubaidi for family festivities!
Ingredients
Syrup:
Filling:
200g walnuts
200g almond
3 tbsp CSR Date Syrup
80g breadcrumbs
1 ½ tsp ground cinnamon
1 tsp ground cardamom
To assemble:
3 sheets of Pampas Puff Pastry, thawed
50g butter, melted
Topping (optional):
Crushed pistachios
Edible flowers
Method
Preheat the oven to 180C fan forced. 
Start with preparing the syrup by heating water, date syrup, white sugar and lemon rind in a small saucepan and bringing it a gentle simmer. Up to 10 minutes. Once the syrup thickens remove from the heat and allow to cool completely.
Place walnuts, almonds, date syrup, breadcrumbs, cinnamon and cardamom into a food processer. Pulse for 30 seconds until mixture is roughly chopped. Do not over pulse or you will lose the nutty texture of a baklava.
To assemble, brush the bottom and sides of your pan generously with butter. Layer with one sheet of thawed puff pastry and brush a generous amount of melted butter. Top evenly with half of the nut filling. Repeat with second layer of puff pastry. Using a fork, prick multiple times. This will help heat reach through the middle layer while baking, giving you an even bake. Brush with melted butter and top with the remaining nut mixture. Layer the last sheet of puff pastry and brush with butter.
Cut into 25 square pieces. Finish by brushing with butter.
Bake for 40 minutes. Once baked, remove from the oven topping immediately with the cool Syrup. Set aside to cool for 1 Hour before serving.
Optional: Garnish with crushed pistachios and edible flowers for a traditional look.
TIP: Place the baklava into a fridge or freezer for 10-15 minutes before baking, this will help the pastry cook evenly and guarantee you a crispy top.
TIP: The syrup must be completely cool before topping the baklava.