Apple and Goat's Cheese Tartlets with Honey
Prep: 20 mins
Cook: 20 mins
Servings: 8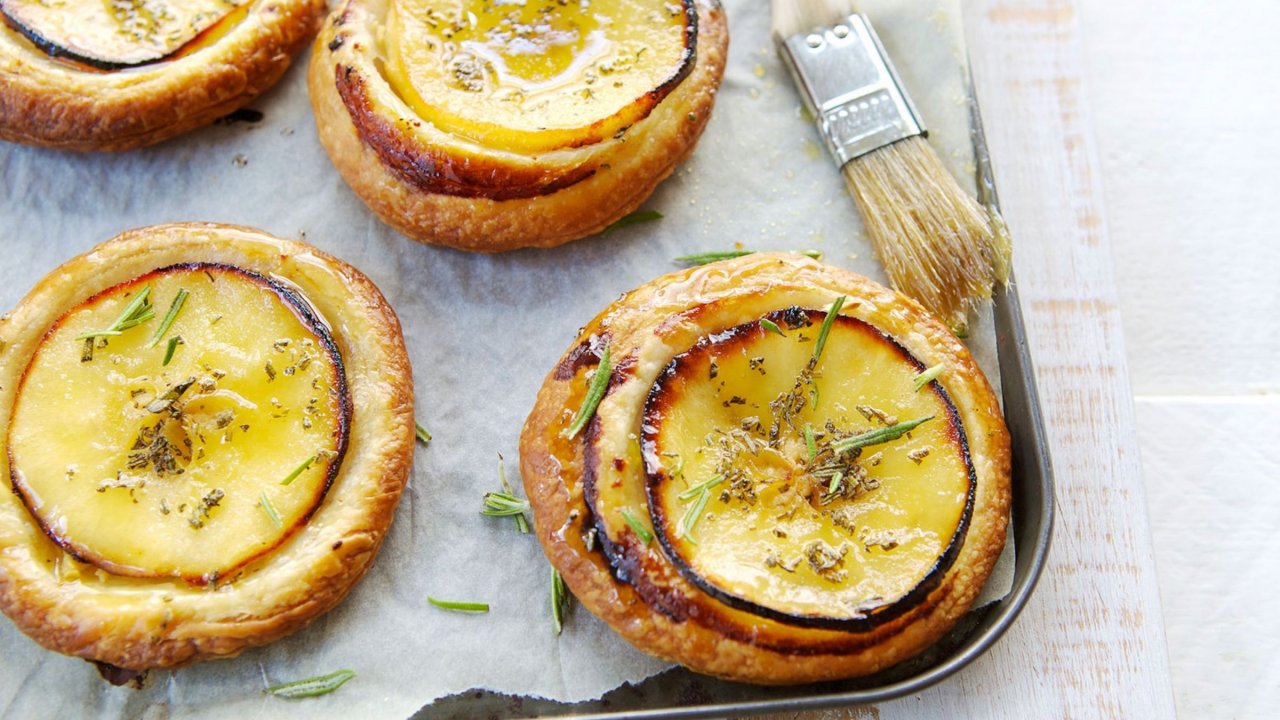 These tarts are perfect for an impromptu gathering - the combination of sweet apple and tangy cheese will have your mouth watering.
Ingredients
2 sheets Pampas Butter Puff Pastry, partially thawed
40g butter
¼ cup honey
1 tsp white wine vinegar
sea salt
½ cup fresh goat's cheese at room temperature
1 large apple, (preferably Pink Lady)
Freshly cracked black pepper
1 tbsp chopped fresh or dried rosemary, optional
Method
Preheat oven to 220°C. Line a baking tray with baking paper and set aside.
Lay pastry sheets on baking paper on workbench. Use a 8cm cookie cutter ring to cut 4 rounds and place on the prepared baking sheet. Repeat with the second sheet, cutting 8 rounds total. Using the blunt end of a 6cm cutter press into each round, without going through, to form a border. Freeze until ready to use.
In a small saucepan melt the butter over low heat. Once it's about halfway there, add the honey, vinegar and a pinch of salt. Stir gently until all the butter has melted and the honey is warm. Remove from the heat and set aside.
Peel the apple, then cut into very thin rounds.
Remove the chilled pastry from the freezer and use a spatula or knife to spread 2 teaspoons of the cheese within the demarcated border. Top the cheese with one apple slice. Brush the honey butter mixture over the apples and sparingly on pastry edge. Sprinkle with cracked pepper and rosemary, if using.
Bake in the preheated oven for 10-15 minutes until the apples are soft and the pastry is golden and puffed. To serve, drizzle the tartlets with the reserved honey mixture. Serve either warm or at room temperature.