Beef, Mushroom & Rosemary Pies
Prep: 30 minutes
Cook: 45 minutes
Servings: 12 individual pies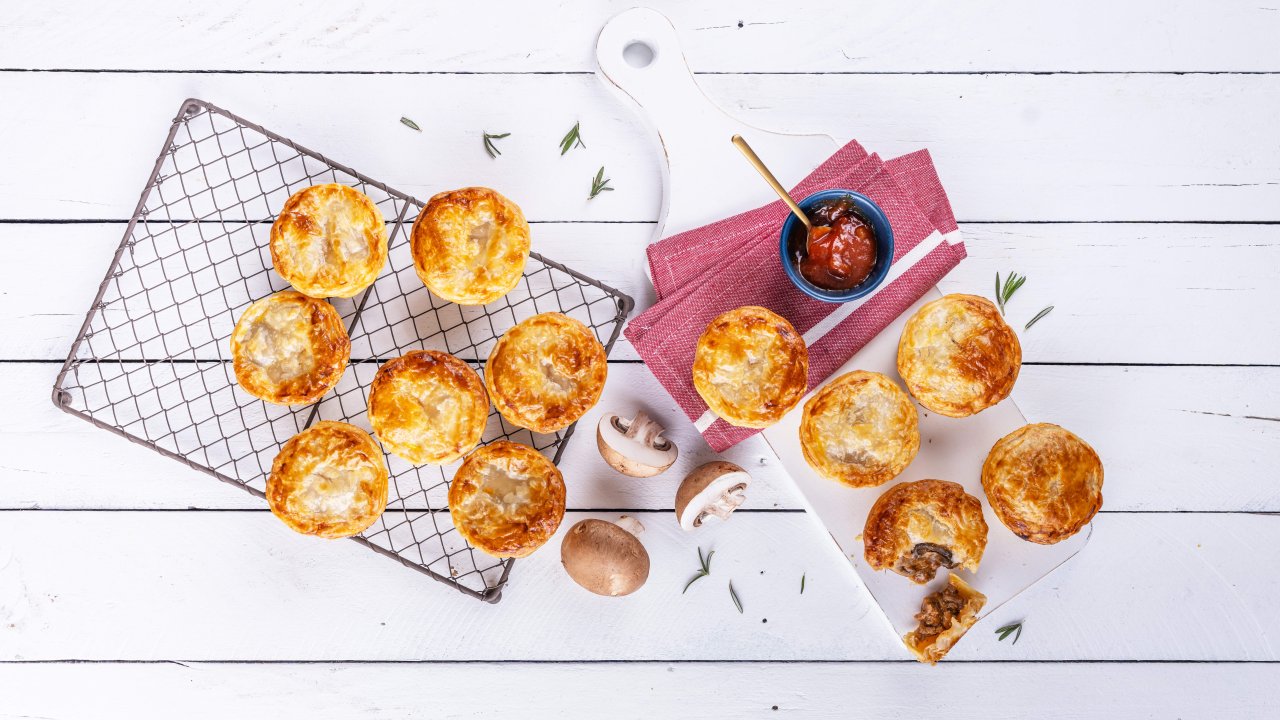 The perfect comfort food for a Winter's night which is sure to warm your belly.
TIP: You can prepare the meat filling the day before for assembly and baking the next day. Add some sesame seeds or rosemary leaves to top of pies for decoration before baking.
Ingredients
3 sheets Pampas Shortcrust Pastry, thawed
3 sheets Pampas Puff Pastry, thawed
2 tsp olive oil
1 onion finely diced
2 cloves garlic, finely chopped
500g beef mince
1 tbsp White Wings plain flour
1 tbsp tomato paste
1 ¼ cups beef stock
100g swiss brown mushrooms, sliced
1 tbsp fresh rosemary leaves, chopped
1 tsp dijon mustard
Seasoning freshly ground black pepper & salt flakes
1 egg lightly whisked with 1 tbsp water
Method
Heat oil in a frying pan over medium heat and add onion and garlic, cooking for several minutes until tender. Increase heat slightly and add beef, cooking until well browned. Stir in flour and tomato paste, cooking a further minute.
Add stock, mushrooms, rosemary and mustard to the pan. Bring to the boil, reduce heat and simmer for 10 minutes. Season well and allow to cool.
Pre-heat oven to 200°C (180°C fan-forced). Lightly grease a 12 round muffin tin. Using a round cutter that is 3-4 cm wider in diameter than the muffin tray mould, cut shortcrust pastry into 4 rounds per sheet. Press the shortcrust pastry rounds into the muffin tin. Spoon cooled meat mixture into pastry case and brush edges of pastry with a little egg wash.
Lay puff pastry sheet on bench top and using a pastry cutter that is 2cm larger than the muffin top diameter, cut puff pastry sheet into 12 rounds. Place puff pastry rounds over the meat mixture, pressing together with the shortcrust edges. Make a small cut on top of pastry. Brush pastry top with egg wash and bake for 15-20 minutes until pastry is golden and crisp. Cool in tin for 10 minutes before removing.