Blueberry Cheesecake Danish
Prep: 20 mins + cooling
Cook: 15 minutes
Servings: 9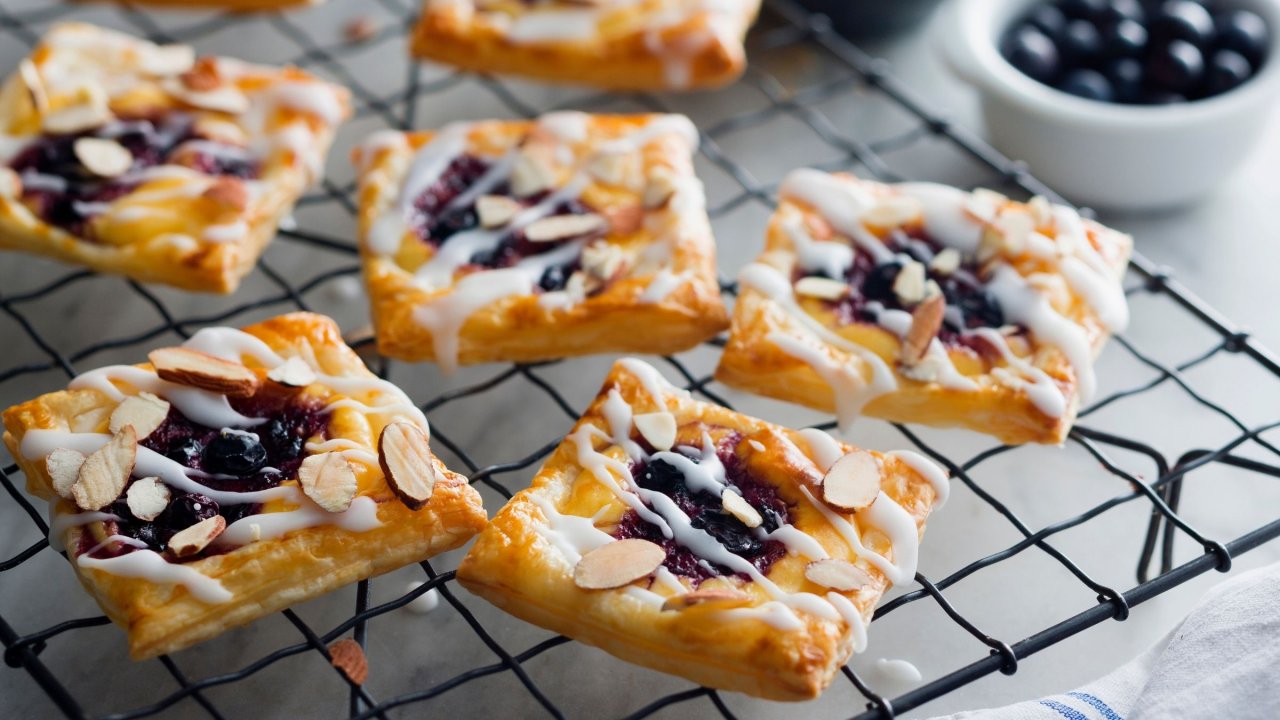 With layers of buttery flaky pastry and a sweet, creamy and berry stuffed filling, this blueberry cheesecake danish is undoubtedly irresistible. 
Ingredients
1 sheet Pampas Puff Pastry, just thawed
125g Cream cheese, softened
1/4 cup CSR Caster Sugar
2 tspns Finely grated lemon zest
1 Egg Yolk
2 ½ tbsns Blueberry Jam
1 Egg, lightly beaten
Icing
1/2 cup CSR Icing sugar, sifted
1½ tspns, Approx Boiling Water
2 tbsns Lightly toasted Flaked Almonds
Method
Preheat oven to 200°C (180°C fan-forced). Line 2 baking trays with baking paper.
Cut pastry into 9 equal squares. Lay the pastry squares onto the lined trays, leaving room in between for spreading. Score a 1cm inner border around the pastries (do not cut all the way through the pastry).
Place cream cheese, caster sugar, lemon zest and egg yolk in a bowl and beat with an electric mixer until smooth. Place a tablespoon of mixture into the centre of each pastry square. Ensure that no filling sits on the border. Top the cream cheese mixture with 1/2 teaspoon of blueberry jam and lightly swirl with skewer.
Brush the pastry borders with egg. Bake 15 minutes or until pastry is golden. Cool.
Make icing. Place icing sugar in a bowl. Stir in sufficient boiling water to make a thick, but still pourable icing. Use a teaspoon to drizzle icing over pastries, then scatter with almonds.