Turkey Carbonara Pot Pies
Prep: 30 minutes
Cook: 30 minutes
Servings: 4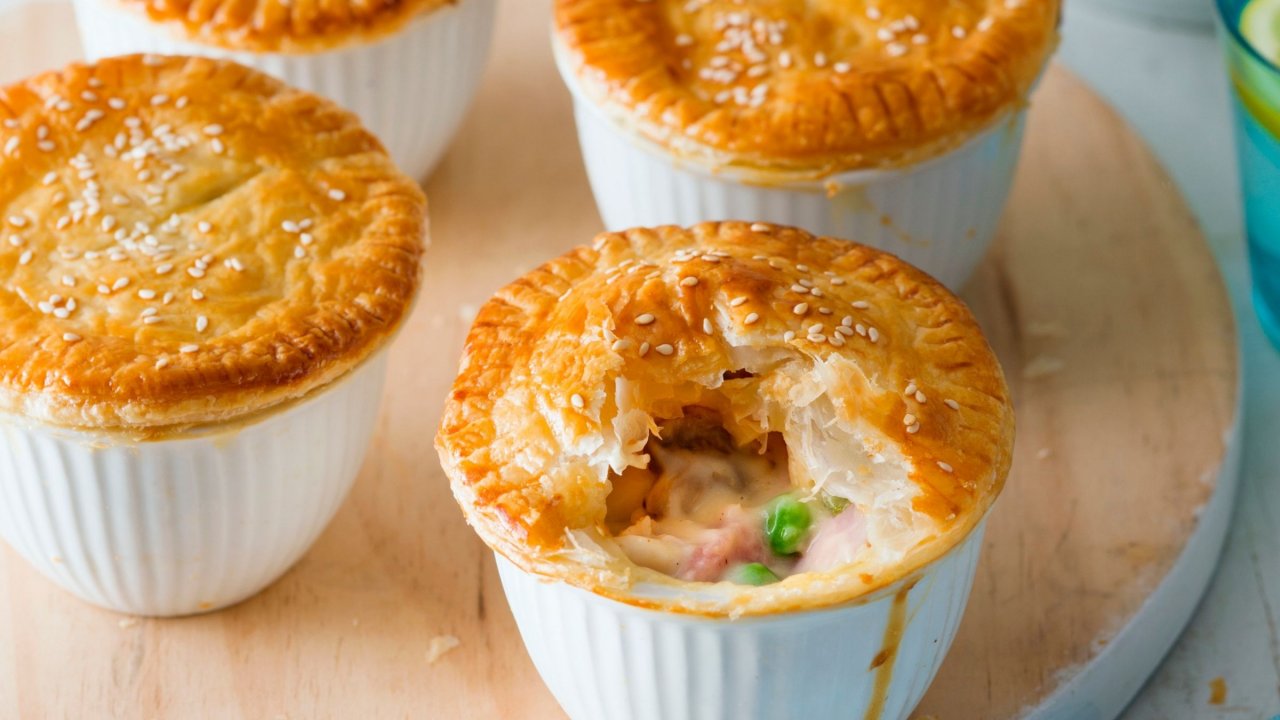 This recipe is perfect for using leftover turkey. You could also substitute turkey for chicken for an equally delicious outcome!
Ingredients
2 Sheets Pampas Puff Pastry, thawed
1 Tbsp Vegetable oil
200g Mushrooms, sliced
2 Cloves garlic, crushed
30g Butter
2 Tbsp White Wings Plain Flour
1 cup Chicken stock
3/4 cup Thickened cream
1/2 cup Tasty cheese grated
1/4 cup Parmesan cheese, finely grated
Freshly ground black pepper
2 cups Cooked turkey, chopped
150g Ham, chopped
1/2 cup Frozen peas
1 Egg, lightly beaten
2 Tsp Sesame seeds
Method
Preheat oven to 200°C (180°C fan-forced).
Heat oil in a non-stick frying pan over a medium heat. Add mushrooms and cook, stirring occasionally for 5 minutes or until tender. Add garlic and cook for 1 minute longer. Set aside.
Place butter and flour together in a saucepan and stir over a medium heat until foaming, then cook for 1 minute, stirring continuously. Remove from heat and gradually stir in stock. Add cream and stir to combine. Stir over a medium heat until simmering, then simmer, stirring for 1 minute. Remove from heat and stir in cheeses and pepper, then stir in mushrooms. Lay a circle of baking paper on the surface of the sauce. Set aside to cool.
Place turkey, ham, peas and sauce in a large bowl and mix to combine. Divide mixture between four 1½-cup capacity individual pie dishes or ramekins. Brush the rim of each pie dish with egg.
Cut out 4 circles of pastry, slightly larger than the rim of each pie dish. Place one circle of pastry on top of each pie and press down lightly on rim. Brush pastry with egg. Cut a small cross in the centre of each pie to allow steam to escape. Sprinkle pies with sesame seeds. Bake 15 minutes or until pastry is golden brown.