Ingredients
Wheat flour, water, margarine [vegetable oils, water, salt, emulsifiers (471, 322 from soy), antioxidant (307b), and natural colour (160a)], salt, food acid (330). 
Contains gluten-containing cereal and soy as indicated in bold type.
Pack weight: 1kg
Sheets: 6 frozen sheets
Servings per pack: 20
Serving Size: 50g
No artificial colours, flavours or preservatives. 
Suitable for vegetarians.
To separate frozen pastry sheets - simply slide a knife between the pastry sheets.
To defrost pastry sheets - allow to thaw for 10-15 minutes at room temperature. Once thawed, do not refreeze.
Keep frozen at or below -18°C.
This product is proudly made in Australia from local and imported ingredients.
Pampas Expert Hints & Tips
Cut unbaked pastry in one clean motion. If you drag the knife or twist the cutter, the layers and amount of rise will be affected.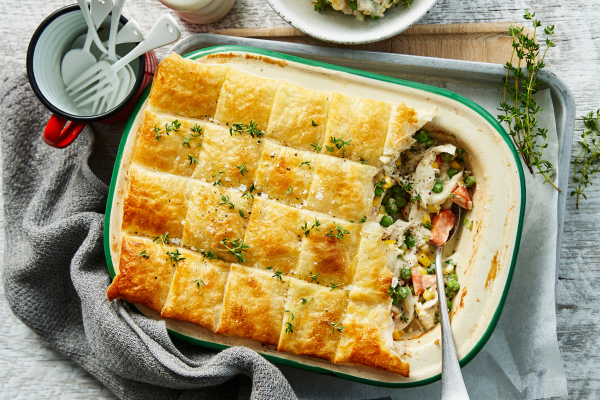 Energy
Avg Qty Per Serving :
700kJ
Protein
Avg Qty Per Serving :
3.1g
Fat, total
Avg Qty Per Serving :
7.9g
Fat, saturated
Avg Qty Per Serving :
3.9g
Carbohydrate
Avg Qty Per Serving :
20.7g
Carbohydrate, sugars
Avg Qty Per Serving :
1.3g
Sodium
Avg Qty Per Serving :
175mg
*Percentage Daily Intakes are based on an average diet of 8700kJ. Your daily intakes may be higher or lower depending on your energy needs.